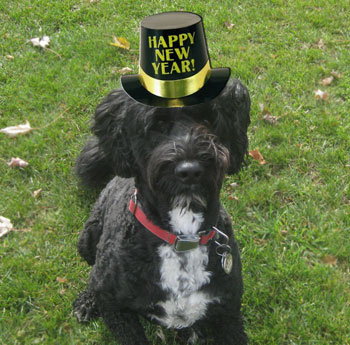 Tis' the time of year that we look back on all the things that occurred over the last 365 days and begin to project our hopes, dreams and objectives on to the new year. Yes, I like many others am talking about resolutions. But while you contemplate that goal of starting a new business or maybe just shedding a few pounds be sure to count your dog in on the action this year.
While your pet cannot make their own New Year's Resolution, you might be surprised at how much more they might just love you, if you include them in on your new resolutions. In fact here are a few great ideas you may just consider this year:
Getting Healthy
This is probably the most common resolution that most of us make. In fact; the health industry is counting on it to be one of our many resolutions. If you have ever held a gym membership during January you know how busy the gym is right up until about Valentine's Day. Anyhow, whether you pick up that membership or not, count on your pup to be a part of this one. Make the resolution to take your pet out on more walks or to play more with them. Both of these provide great exercise for the both of you and playing with your pet creates a great bond between you.
Getting Organized
Trust us, we too go through this every year and say we are going to finally go through that closet or file cabinet and organize, organize, organize. Think of what things you may have been holding off with related to your pet and make those a priority. For example, when was the last time you verified the information on your pet's chip or dog collar? Many times we move, change numbers or maybe even get a rescue and have yet to even get tags. We all know we should but rarely think of it until it's too late and the pet has gotten out or gone missing. Of course this could also go for updating or mainainting your pet's vaccination records as well.
Get Some Manners
Maybe you are a fan of Downton Abbey or even Dancing With The Stars and have decided that this is the year you are going to learn how to serve a fancy dinner party or learn to ballroom dance. Well, while your working to class things up a bit, don't forget to bring your pet along too. Obedience and socialization issues become harder and harder to address as you pet gets older. If you are begining to see signs that your little pookie is regularly misbehaving or does not play well with others at the Dogwoods (or a dog park), then make that resolution to schedule obedience training for the New Year.
Of course there are many resolutions you can set forth for yourself and your pet this year but we thought that these were some of the easiest and most important to helping keep your pet happy, healthy and well mannered. What about you? Are there any resolutions you have thought of for you and your pet that we missed? Or are there any successes that you have had with years past?
-The Dogwoods
[button link="www.Debsdogwoods.com/new-guest-orientation/" icon="heart" color="red"]Become A Guest[/button] [button link="https://thedogwoods.propetware.com/" window="yes" icon="pagelines" color="green" bg_color="#000000″ border="#000000″ text="dark"]Guest Login[/button]