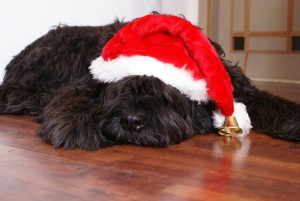 As we begin to frantically shop for our loved ones, there tends to be this urgency to buy a gift better than the one before. This especially rings true when it comes to young children or that special someone in our lives. We've all been there, so we know there is no shame to be had in wanting to provide the best for the best in our world. However, where we diverge in this matter is when it comes to buying a pet as a gift.
We know, you are probably thinking "but (insert name) would just love the surprise of opening a box to find a cute little puppy inside!" Sure they probably would and it would likely make you the best parent or loved one on the block for what, a month or so?
The reality
Pets do not make great presents unless the receiver is truly ready to accept the responsibility of owning an animal. Responsibility also includes the true cost of owning a pet, as the ASPCA states that the average cost of owning a pet (depending on size) is between $1300- 2000 a year. We're not sure about you, but we do not know too many 5-year-olds with that kind of cash.
The same also goes for those new relationships; a new pet is not just a cute holiday gift idea, it's also a 15-year commitment in most instances. Let alone what if he or she does not like the pet? Many shelters actually see an increase in surrenders within 3 months of the holidays. In fact many now discourage gift adoptions during the holidays.
What to do?
If you are set on getting a pet as a gift this holiday, forego the surprise and get your loved one involved in the adoption process. While it does not guarantee things will work out, it is a way to ensure the new owner is fully on board with caring for a pet.
When it comes to getting a pet, we recommend a shelter over a pet store. While the store may be reputable; the pets can be over stressed, immune suppressed or possibly from a puppy mill with poor breeding practices.
Be sure to do your homework on the breeder or consider going with one of our favorites:
Fetch Wisconsin – A great non-profit located in Verona, WI and specializes in dog rescues. They have saved almost 250 pets since they opened in April of last year.
Dane County Humane Society – An open admission shelter that works tirelessly with over 80 shelters and sees nearly 7000 animals through their doors annually.
Of course rather than adopting a pet this holiday, both of these great organizations are always looking for donation, volunteers or foster homes for pets. If any of these options sound like a better way of giving this holiday season we encourage you to reach out to them and please pass on buying a pet as a gift.
-The Dogwoods
[button link="www.Debsdogwoods.com/new-guest-orientation/" icon="heart" color="red"]Become A Guest[/button] [button link="https://thedogwoods.propetware.com/" window="yes" icon="pagelines" color="green" bg_color="#000000″ border="#000000″ text="dark"]Guest Login[/button]