Getting your puppy familiar with going to the groomer.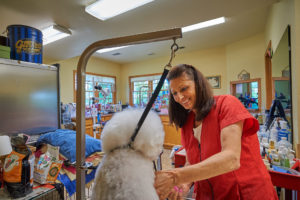 Not too long ago, I found myself in a conversation explaining how important it was to slowly begin grooming a new puppy for the groomers. I realized that this was something that not all pet owners considered or planned for, when preparing to get a new pet.
Because they are unaware, many times a pet owner will wait several months to a year before making that first appointment. When an owner waits this long, the visit can be met with a bit of stubbornness or fear from an adolescent dog who is not familiar with their surroundings or the groomer. Additionally, there are times the groomer is not able to complete the style because the dog is too scared or nervous to sit for the appointment (We've all heard of these kinds of stories).
Going to the Groomer should be fun.
Ultimately, this should be a fun and energizing experience for your pet. Just like when you visit the barber or stylist you feel refreshed, energized and ready to take on the world; your pup should feel the same way after a visit to their groomer. So here is the ideal way a groomer would like to develop a relationship with you and your new puppy. I genuinely love to see a new puppy come in at about 12 weeks of age to experience an intro to the grooming process. Not only are they so cute and adorable at that age, but they are in explore mode and tend to view their surroundings with curious eyes. During the initial appointment I like to give them a professional bath, blow-dry, nail trim and slight trimming over eyes, genital area, and around feet. This is plenty for a first experience remember, we want this to be about familiarizing the dog with the environments and ensuring they are not overwhelmed or frightened. By Building a positive experience early on we can ensure a stable behavior for future grooming.
If your puppy accepts this initial procedure, it is possible to move on to the next session with additional work such as body trimming. But if your pup has difficulty with the basics, its okay, just remember to be proactive in repeating until your pet accepts the basic steps with ease.
Moving forward as your pet ages.
Keep in mind to choose a style that fits your dogs lifestyle and please be proactive in keeping his/her coat in good condition. By regularly doing so, you will prevent any possible infections that can occur from matting and this can also reduce the stress your pet may incur from having to have the mats removed at the groomer.
You may also elect to hire the groomer for regular maintenance work, if you believe this has become a bit of a daunting task. Or many times owners will work with their groomer to define a "starting-over" length to spare the dog unnecessary discomfort in mat removal.
Lastly, while these tips are focused towards describing early introduction of your pet to grooming, these steps can also work for you if you have a "new-to-you" pet from a rescue and are unsure of the pets grooming experiences. In those instances it is important to communicate this with your groomer, so they know how to best work with your pet to ensure a pleasant experience.
-The Dogwoods
[button link="www.Debsdogwoods.com/new-guest-orientation/" icon="heart" color="red"]Become A Guest[/button] [button link="https://thedogwoods.propetware.com/" window="yes" icon="pagelines" color="green" bgcolor="#000000″ border="#000000″ text="dark"]Guest Login[/button]